Our Story
All of us share this issue:  no bees = no life. I want to empower others to know they can make a difference. Products like "Round Up" weed killer and "Confidor" insecticides have been proven to harm bees. Glyphosate – the active ingredient in Round Up – has been banned in several countries for being carcinogenic.  Bees and humanity face a major challenge as massive corporations are determined to feed the world with GMO (genetically modified) Food mono culture farming.
What we Do
Save the Bees Australia has evolved from saving problem bee infestations and re housing bees into a social enterprise. Bees encompass so many issues organic farming , nutrition , pollution , environment , education, wisdom, permaculture and love.  Save the Bees Australia's aim is to unite like minded people and raise awareness of the importance of bees and the plight that bees face.
How you can Help
Donate to Bee the Cure
Your support would mean a lot to us, If you have any questions please called us  0400 882 146. Donate Now
Sign the Petition
Corporations are confusing consumers by not adding country of origin on their imported honey products. Sign our petition to have imported honey labelled with country of origin.
Report a bee swarm
Do you have a swarm of bees that are bothering you?  Bees are at their most venerable and friendly when they swarm. Every bee in the hive knows the status of the hive's health, production, and coherence. When the hive has ample honey and favourable weather conditions the colony will split to reproduce.  Swarming Involves older and wisest bees leaving their established location to scout out a new location. Swarm Patrol puts you in contact with beekeepers who will house and relocate the colony.
THE LATEST FROM INSTAGRAM
Please enter an Access Token on the Instagram Feed plugin Settings page.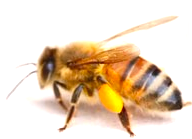 Would you like to donate to Bee the Cure?
Your support would mean a lot to us, If you have any questions please called us  0400 882 146
The Latest from Facebook
1 day ago
There are sinister characters in the agricultural industry and they use these type of tactics in attempt to undermine the anti pesticide movement for example Bayer/Monsanto .

Climate change and bees

Plants and bees have evolved together as they both benefit each other- bees provide a way for plants to reproduce by dispersing their pollen, and plants provide bees with nectar as a food source. Climate change is affecting pollination by disrupting the synchronised timing of flower blooming and the timing at which bees pollinate. Flowers are blooming earlier in the growing season due to rising temperatures, before many bees have a chance at pollinating the plants. Thus, when bees finally begin pollination there is limited nectar available and competition for these valuable resources becomes more intense.

Global warming of the Earth's atmosphere beyond safe levels. Warmer air means that there is more energy and more moisture in the atmosphere, which can lead to a wide variety of consequences — floods, tornados, and cyclones; but also droughts, heat waves, and wildfires. All of these consequences are threats to bee populations.

There are nearly 20,000 known species of bees in seven recognised biological families. They are found on every continent except Antarctica. Many bee species are endangered or may have gone extinct.

Some insects like the honeybee have adapted to this early shift in the flowering date of plants, by advancing their seasonal flight activity. However, the responses of individual species vary and are unknown for many other bee species. Unless bees have made the shift alongside the flowers, there could be a decline in pollination and a lack of food sources for certain bee species. And without the flowers getting pollinated, plants lose a chance at reproducing in a given year.

Our fossil-fuel based industrial agriculture contributes to greenhouse-gas emissions in several distinct ways: directly through the fuel burnt by agricultural machinery, during food processing, and by transporting the average ounce of food over a thousand miles "from the farm to the table"; indirectly in the manufacture of its synthetic inputs, e.g. of nitrogen fertilizer from nitrogen and natural gas; and finally by breaking down the organic matter in the soil into carbon dioxide (during large-scale tillage and as a consequence of excessive synthetic inputs), which is released into the atmosphere as a greenhouse gas. In addition, massive amounts of methane (a greenhouse gas many times more potent than CO2) are released during large-scale industrial cattle farming.

Industrialised farming has been disastrous for bees. The massive use of chemical fertilisers and pesticides changed the whole fabric of agriculture and farming, as the agrochemical industry persuaded farmers that they could make more money by planting large fields with a single highly profitable crop and by controlling weeds and pests with chemicals.

If bees thrive we thrive. Fortunately, there is a viable and sustainable alternative to industrial agriculture. It consists of communities adopting agricultural techniques, based on traditional practices,. The ecologically oriented farming techniques are known variously as #organic #permaculture .

When farmers grow crops organically, they use technologies based on ecological knowledge rather than chemistry or genetic engineering to increase yields, control pests, and build soil fertility. They plant a variety of crops, rotating them so bees and other insects are attracted to one crop will disappear with the next. They know that it is unwise to eradicate pests completely, because this would also eliminate the natural predators that keep pests in balance in a healthy ecosystem. Instead of chemical fertilisers, these farmers enrich their fields with manure and tilled-in crop residue, thus returning organic matter to the soil to reenter the biological cycle.

Support your local beekeeper on the honeymap.

goo.gl/E9BjH9 ... See MoreSee Less
Contact us
For enquiries and more information please contact Simon Mulvany on 0400 882 146 or send us an email via our contact form.
Support Local honey producers and stockists
Australia's whole honey industry is under threat from imported honey. The solution is for Australians to support local beekeepers and buy local. View our Honey Map and support the locals.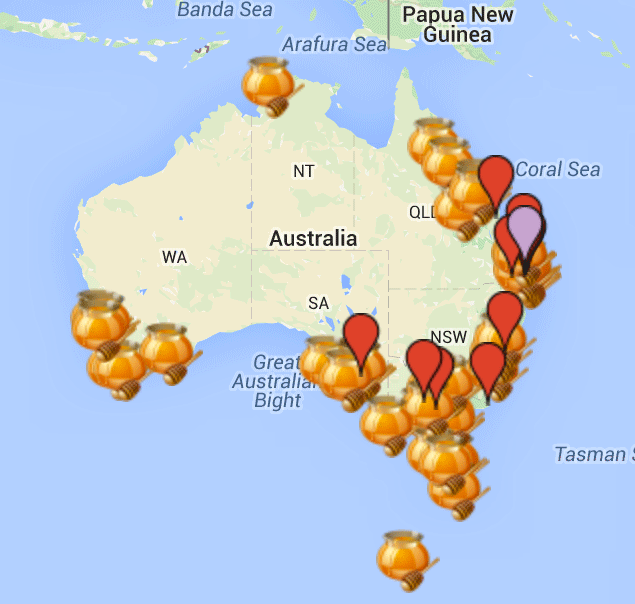 Save
1 day ago
There are sinister characters in the agricultural industry and they use these type of tactics in attempt to undermine the anti pesticide movement for example Bayer/Monsanto .

Climate change and bees

Plants and bees have evolved together as they both benefit each other- bees provide a way for plants to reproduce by dispersing their pollen, and plants provide bees with nectar as a food source. Climate change is affecting pollination by disrupting the synchronised timing of flower blooming and the timing at which bees pollinate. Flowers are blooming earlier in the growing season due to rising temperatures, before many bees have a chance at pollinating the plants. Thus, when bees finally begin pollination there is limited nectar available and competition for these valuable resources becomes more intense.

Global warming of the Earth's atmosphere beyond safe levels. Warmer air means that there is more energy and more moisture in the atmosphere, which can lead to a wide variety of consequences — floods, tornados, and cyclones; but also droughts, heat waves, and wildfires. All of these consequences are threats to bee populations.

There are nearly 20,000 known species of bees in seven recognised biological families. They are found on every continent except Antarctica. Many bee species are endangered or may have gone extinct.

Some insects like the honeybee have adapted to this early shift in the flowering date of plants, by advancing their seasonal flight activity. However, the responses of individual species vary and are unknown for many other bee species. Unless bees have made the shift alongside the flowers, there could be a decline in pollination and a lack of food sources for certain bee species. And without the flowers getting pollinated, plants lose a chance at reproducing in a given year.

Our fossil-fuel based industrial agriculture contributes to greenhouse-gas emissions in several distinct ways: directly through the fuel burnt by agricultural machinery, during food processing, and by transporting the average ounce of food over a thousand miles "from the farm to the table"; indirectly in the manufacture of its synthetic inputs, e.g. of nitrogen fertilizer from nitrogen and natural gas; and finally by breaking down the organic matter in the soil into carbon dioxide (during large-scale tillage and as a consequence of excessive synthetic inputs), which is released into the atmosphere as a greenhouse gas. In addition, massive amounts of methane (a greenhouse gas many times more potent than CO2) are released during large-scale industrial cattle farming.

Industrialised farming has been disastrous for bees. The massive use of chemical fertilisers and pesticides changed the whole fabric of agriculture and farming, as the agrochemical industry persuaded farmers that they could make more money by planting large fields with a single highly profitable crop and by controlling weeds and pests with chemicals.

If bees thrive we thrive. Fortunately, there is a viable and sustainable alternative to industrial agriculture. It consists of communities adopting agricultural techniques, based on traditional practices,. The ecologically oriented farming techniques are known variously as #organic #permaculture .

When farmers grow crops organically, they use technologies based on ecological knowledge rather than chemistry or genetic engineering to increase yields, control pests, and build soil fertility. They plant a variety of crops, rotating them so bees and other insects are attracted to one crop will disappear with the next. They know that it is unwise to eradicate pests completely, because this would also eliminate the natural predators that keep pests in balance in a healthy ecosystem. Instead of chemical fertilisers, these farmers enrich their fields with manure and tilled-in crop residue, thus returning organic matter to the soil to reenter the biological cycle.

Support your local beekeeper on the honeymap.

goo.gl/E9BjH9 ... See MoreSee Less
1 day ago
Timeline Photos ... See MoreSee Less
2 days ago
Please sign this person 🙏🐝

wew.change.org/banneonicotinoids ... See MoreSee Less
2 days ago
The Pollinators is a cinematic journey following migratory beekeepers and their truckloads of honey bees as they pollinate the flowers that become the fruits, nuts and vegetables we all eat.

The Pollinators now showing in selected cinemas across Australia. Head to au.demand.film/the-pollinators/

The Pollinators

Europe has banned neonicotinoid insecticides associated with colony collapse disorder please sign this petition asking Australia to do the same.

Www.change.org/banneonicotinoids

Demand Film is looking into making a documentary about food fraud in the honey industry and will be consulting Simon Mulvany and making a contribution to savethebeesaustralia fight against honey laundering.

change.org/honeylabelling

You can support your local beekeeper by purchasing local honey on the honeymap.

www.beethecure.com.au/honey-map/ ... See MoreSee Less
3 days ago
Milk and Honey

Milk "When a baby suckles at its mother's breast, a vacuum is created. Within that vacuum, the infant's saliva is sucked back into the mother's nipple, where receptors in her mammary gland read its signals. This "baby spit backwash," as she delightfully describes it, contains information about the baby's immune status. Everything scientists know about physiology indicates that baby spit backwash is one of the ways that breast milk adjusts its immunological composition. If the mammary gland receptors detect the presence of pathogens, they compel the mother's body to produce antibodies to fight it, and those antibodies travel through breast milk back into the baby's body, where they target the infection."
.
credit: The Natural Parent Magazine

Honey #Trophallaxis

The transfer of food or pheromones among members of the colony through mouth-to-mouth feeding. It is used to keep a cluster of bees alive as the edges of the cluster collect food and share it through the cluster. It is also used for communication as pheromones are shared. One very important one is QMP (Queen Mandibular Pheromone) which is shared by trophallaxis throughout the hive to let the hive know the queenbee is healthy.

Symbeeosis with Olive ... See MoreSee Less
3 days ago
Huge decline in songbirds linked to common insecticide ... See MoreSee Less