Our Story
All of us share this issue:  no bees = no life. I want to empower others to know they can make a difference. Products like "Round Up" weed killer and "Confidor" insecticides have been proven to harm bees. Glyphosate – the active ingredient in Round Up – has been banned in several countries for being carcinogenic.  Bees and humanity face a major challenge as massive corporations are determined to feed the world with GMO (genetically modified) Food mono culture farming.
What we Do
Save the Bees Australia has evolved from saving problem bee infestations and re housing bees into a social enterprise. Bees encompass so many issues organic farming , nutrition , pollution , environment , education, wisdom, permaculture and love.  Save the Bees Australia's aim is to unite like minded people and raise awareness of the importance of bees and the plight that bees face.
How you can Help
Donate to Bee the Cure
Your support would mean a lot to us, If you have any questions please called us  0400 882 146. Donate Now
Sign the Petition
Corporations are confusing consumers by not adding country of origin on their imported honey products. Sign our petition to have imported honey labelled with country of origin.
Report a bee swarm
Do you have a swarm of bees that are bothering you?  Bees are at their most venerable and friendly when they swarm. Every bee in the hive knows the status of the hive's health, production, and coherence. When the hive has ample honey and favourable weather conditions the colony will split to reproduce.  Swarming Involves older and wisest bees leaving their established location to scout out a new location. Swarm Patrol puts you in contact with beekeepers who will house and relocate the colony.
THE LATEST FROM INSTAGRAM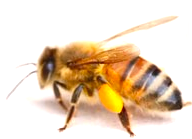 Would you like to donate to Bee the Cure?
Your support would mean a lot to us, If you have any questions please called us  0400 882 146
The Latest from Facebook
3 days ago
River systems and aquatic life may be the next victims in the fire because of the chemicals used in association with the fire retardant.

This may lead to a contaminated water supply for humans , animals and insects.

The firefighting retardant is made up of a mix of ammonia with thickeners and corrosion inhibiters - chemicals to prevent damage to planes dropping them.

If the retardant is sprayed into waterways it can start to have a serious impact - disrupting the water's nutrient balance and potentially creating algal blooms.

This can then lead to fish kills, and harm the health of any livestock or humans which drink from the waterways according to the CSIRO website.

University of Sydney Associate professor Tina Bell studied the impact of one of the retardants on vegetation in eastern Victoria in 2005.

Dr Bell told the Sydney Morning Herald the potential impact of these chemicals leaking into waterways is still unknown.

'Unfortunately, very little research has been done in Australia on the immediate and longer term effects of fire retardants on plant and animal communities,' Dr Bell said.

If the retardant gets in your water tank the water is unsuitable for drinking by humans and/or animals. Boiling the water will not remove the contamination.
It's important that we share ACCURATE information as there is so much misinformation available. For anyone that doubts this story, this is from the governments own website.

www.health.nsw.gov.au/environment/factsheets/Pages/fire-retardants.aspx

www.dailymail.co.uk/news/article-7883933/Fears-pink-flame-retardant-contaminating-drinking-water....

Fears pink fire fighting retardant is contaminating drinking water
... See MoreSee Less
Contact us
For enquiries and more information please contact Simon Mulvany on 0400 882 146 or send us an email via our contact form.
Support Local honey producers and stockists
Australia's whole honey industry is under threat from imported honey. The solution is for Australians to support local beekeepers and buy local. View our Honey Map and support the locals.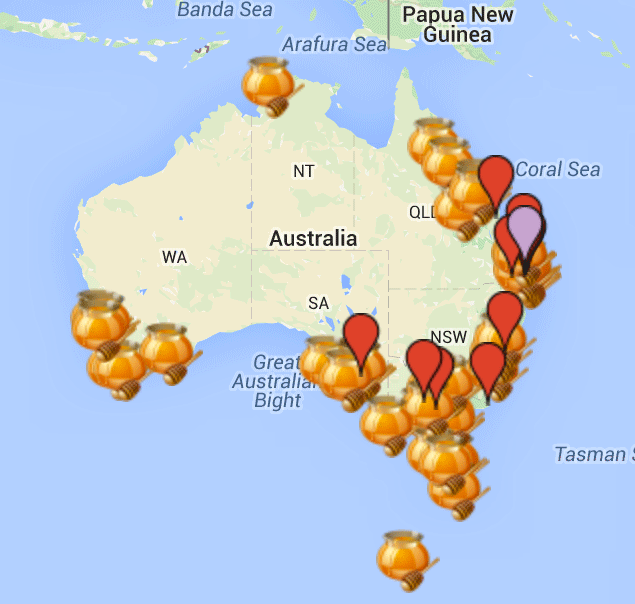 Save
16 hours ago
Fire-tailed #resinbee (Megachile mystacaena).
Solitary native #bees that nest in existing cracks and crevices, hollow twigs, old borer holes, metal pipes or between the folds of curtains.
The female bee constructs cells from plant resin, chewed plant material and mud, which she carries and moulds with her jaws.
They play an important role in the #australian environment as key #pollinators of many native plant species.
#indigenous #savethebees #nsw
@alyciatarga ... See MoreSee Less
2 days ago
Thanks Honey Tasmania and all the other beekeepers that have donated raw honey to help suffering animals that have been burnt in the fires. Also thanks @paigelharris for orchestrating this and finding the animal clinics in need.
How to use honey for Burn Victims.
In minor burns, it is recommended to pour water immediately on burns, as this reduces the temperature. Afterwards, honey can be applied. Depending on the area, 15-30 ml of honey can be applied directly onto the burn wound or soaked in gauze before application. Occlusive or absorbent secondary dressings are applied to prevent honey from oozing out, and the frequency of dressing changes depends on how rapidly the honey is diluted by the exudate, which declines as treatment progresses.

Honey's anti-bacterial action, low pH, high viscosity, hygroscopic effect, and its hydrogen peroxide content all play a combined role in honey's effectiveness in burns treatment. Honey provides a moist environment for optimum healing conditions.

All raw honey should be effective but the nurses I have spoken to tend to use jarrah from WA or Leptospernum honey (manuka). #savethebees #beethecure ... See MoreSee Less
3 days ago
A Documentary About Beekeepers Just Made Oscar History ... See MoreSee Less
3 days ago
River systems and aquatic life may be the next victims in the fire because of the chemicals used in association with the fire retardant.

This may lead to a contaminated water supply for humans , animals and insects.

The firefighting retardant is made up of a mix of ammonia with thickeners and corrosion inhibiters - chemicals to prevent damage to planes dropping them.

If the retardant is sprayed into waterways it can start to have a serious impact - disrupting the water's nutrient balance and potentially creating algal blooms.

This can then lead to fish kills, and harm the health of any livestock or humans which drink from the waterways according to the CSIRO website.

University of Sydney Associate professor Tina Bell studied the impact of one of the retardants on vegetation in eastern Victoria in 2005.

Dr Bell told the Sydney Morning Herald the potential impact of these chemicals leaking into waterways is still unknown.

'Unfortunately, very little research has been done in Australia on the immediate and longer term effects of fire retardants on plant and animal communities,' Dr Bell said.

If the retardant gets in your water tank the water is unsuitable for drinking by humans and/or animals. Boiling the water will not remove the contamination.
It's important that we share ACCURATE information as there is so much misinformation available. For anyone that doubts this story, this is from the governments own website.

www.health.nsw.gov.au/environment/factsheets/Pages/fire-retardants.aspx

www.dailymail.co.uk/news/article-7883933/Fears-pink-flame-retardant-contaminating-drinking-water....

Fears pink fire fighting retardant is contaminating drinking water
... See MoreSee Less
4 days ago
Please donate .

www.beethecure.com.au/emergency-fundraiser/


Thank you so much for your support of this crucial campaign to bring bees back to heal the suffering land and communities effected by the fires.

We would like to share a little bit about each beekeeper that we are helping so that you can understand how your donations are making a huge difference.

First up Peter Vickers from Sticky Wings Honey:

Peter lost 40 of his 51 hives in late October in Darawank and was finding it hard to see a way forward.

Chelsea instagram.com/chelandhands?igshid=1xaecydgmr65k helped him clean up and was witness to the devastation.

We transferred $3,000 to him.

As you can see in the video here, Peter is extremely thankful for your donation.



We also helped Aspen and Peter from Midcoast honey who list over 150 hives. You can read more about Peters experiences here.

mobile.abc.net.au/news/2019-11-20/beekeepers-traumatised-by-screaming-animals-after-bushfires/117...

Another Peter, this time Peter Matthison from Mid Coast Honey:

Peter thought he had lost 189 hives but while he was busy fighting fires in Elands and helping others protecting their properties, he lost some more, over 230 in total.

He is a very generous beekeeper and he wants to create nucs (small starter colonies) to not only rebuild his apiary but to give to other beekeepers to help them get back on their feet.
Also a shout out to Greg Mulder (specialised queen breeder) who has offered to donate queens to create those colonies.
We have made an original transfer of $6,000 with a further $4,000 today.


Roy from Sticky Prick Honey:

Roy lost over 125 hives in fires in the Yanchep Bush in Perth.
Here is an article about it www.communitynews.com.au/wanneroo-times/news/support-takes-the-sting-out-of-loss/
We transferred $3,000 to him.
You can follow his progress here Sticky Prick Bee Haven

The extent of the fires is much greater than we had anticipated when we started this campaign. We thank you for your amazing support and we look forward to share stories of the beekeepers that we are able to help thanks to your generosity.

More beekeepers are coming forward and we look forward to sharing with you how you are helping them. ... See MoreSee Less
4 days ago
Please donate .

www.beethecure.com.au/emergency-fundraiser/


Thank you so much for your support of this crucial campaign to bring bees back to heal the suffering land and communities effected by the fires.

We would like to share a little bit about each beekeeper that we are helping so that you can understand how your donations are making a huge difference.

First up Peter Vickers from Sticky Wings Honey:

Peter lost 40 of his 51 hives in late October in Darawank and was finding it hard to see a way forward.

Chelsea instagram.com/chelandhands?igshid=1xaecydgmr65k helped him clean up and was witness to the devastation.

We transferred $3,000 to him.

As you can see in the video here, Peter is extremely thankful for your donation.



We also helped Aspen and Peter from Midcoast honey who list over 150 hives. You can read more about Peters experiences here.

mobile.abc.net.au/news/2019-11-20/beekeepers-traumatised-by-screaming-animals-after-bushfires/117...

Another Peter, this time Peter Matthison from Mid Coast Honey:

Peter thought he had lost 189 hives but while he was busy fighting fires in Elands and helping others protecting their properties, he lost some more, over 230 in total.

He is a very generous beekeeper and he wants to create nucs (small starter colonies) to not only rebuild his apiary but to give to other beekeepers to help them get back on their feet.
Also a shout out to Greg Mulder (specialised queen breeder) who has offered to donate queens to create those colonies.
We have made an original transfer of $6,000 with a further $4,000 today.


Roy from Sticky Prick Honey:

Roy lost over 125 hives in fires in the Yanchep Bush in Perth.
Here is an article about it www.communitynews.com.au/wanneroo-times/news/support-takes-the-sting-out-of-loss/
We transferred $3,000 to him.
You can follow his progress here Sticky Prick Bee Haven

The extent of the fires is much greater than we had anticipated when we started this campaign. We thank you for your amazing support and we look forward to share stories of the beekeepers that we are able to help thanks to your generosity.

More beekeepers are coming forward and we look forward to sharing with you how you are helping them. ... See MoreSee Less
5 days ago
This drying continent can't afford Adani's pipeline to 12.5 billion litres of precious water ... See MoreSee Less