Beekeeping 101 Course
Become a Beekeeper to Bee the Cure
One of the reasons I've created the Beekeeping 101 Course is because beekeeping is becoming increasingly popular.
Unfortunately, COVID-19 has made it harder for aspiring beekeepers to go to beekeeping clubs or connect with a mentor. Over the past year, I have been helping new beekeepers who have not had the opportunity to learn how to care for their bees. Sadly, some of these beekeepers have lost their colonies from their lack of understanding about beekeeping.
Over the last decade, I have learnt so many tips and tricks that I wish I had known when I began my beekeeping journey. This course allows me to share what I've learnt through many years of experience, giving new beekeepers a flying start.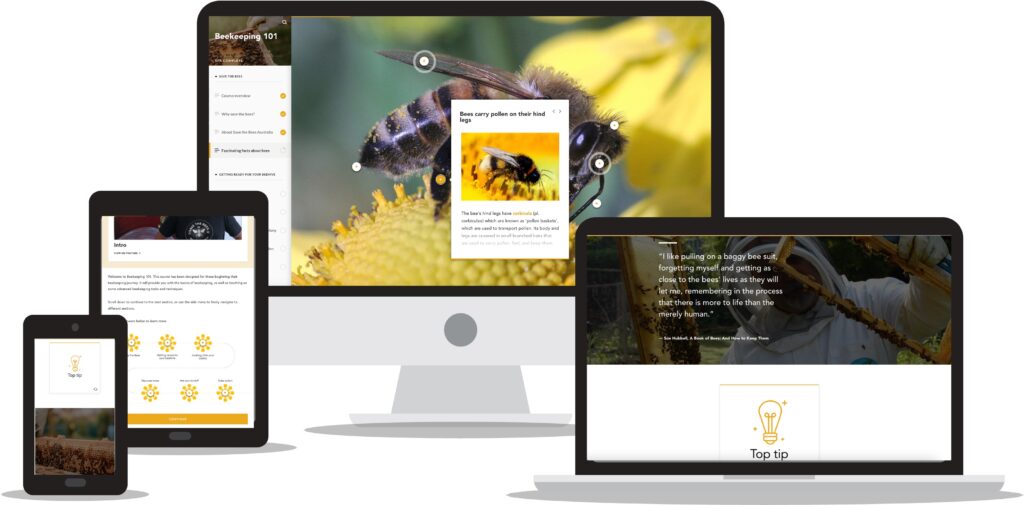 The Beekeeping 101 Course is online, meaning you can complete it at your own pace, on your computer, tablet or mobile. It's interactive, engaging and informative. It includes over an hour and a half of video footage where I demonstrate how to perform different tasks, including inspecting a hive and harvesting honey. It is great for aspiring beekeepers or those new to beekeeping. This course is suitable for years 8+.
Why do this course?
Tip and tricks from the experienced beekeeper and Founder of Save the Bees Australia, Simon Mulvany
Get a FLYING start in your beekeeping journey
Prepare for potential challenges and mistakes you might make as a beekeeper
A portion of the revenue goes to Save the Bees Australia to help advocate for bees
You will learn how to keep your own bees, make your own honey and save the bees!
What's in the course?
What makes bees so fascinating and important?
What will I need?
Which beehive should I buy?
Where can I buy a honey bee colony?
How can I create a bee-friendly garden?
How can I get my kids involved?
How do I care for my bees?
How do I collect and harvest honey?
How do I keep my hive healthy?
Where can I learn more about bees?

How can beekeeping help to save the bees?
"The privilege of being a beekeeper is not to generate as much honey as possible. We keep bees so that we can contribute to pollination. Actually the future of beekeeping is not in one beekeeper with 60,000 hives, rather it is 60,000 people with one hive. All of them approaching the art and craft of being a keeper of bees as a holistic practice."
– Simon Buxton, 'The Shamanic Way of the Bee'
"If you give a person a jar of honey, you feed him for a while. If you teach a person how to be a beekeeper, you pollinate the community and nourish the earth for a lifetime."